Past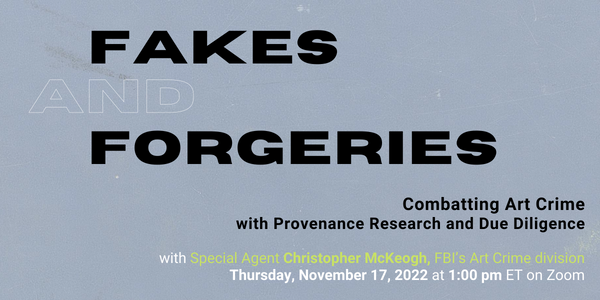 Fakes and Forgeries: Combatting Art Crime With Provenance Research and Due Diligence
November 17, 2022
The rise of fakes and forgeries in the artworld is of particular concern to art historians and custodians of art historical archives. Especially with the increasing availability of archival information online, many are concerned that criminals have more access than ever…
Photographers on Bearden
November 9, 2022
In celebration of the launch of the Romare Bearden Papers on the Digital Archives, the WPI hosted a webinar featuring renowned photographers Frank Stewart and Chester Higgins, Jr., in a conversation moderated by Dalila Scruggs, Curator of Photography and Prints at the Schomburg Center for Research in Black Culture.
The Role of the Leo Castelli Gallery in the Advent of 'Pop Art'
October 11, 2022
Leo Castelli established his gallery's direction when it opened in the late 1950s by exhibiting the work of Jasper Johns and Robert Rauschenberg. Their art marked a shift away from the prevailing mode of abstract expressionism by employing objects and…
News
Johns Scholar Roberta Bernstein Awarded French Legion of Honor October 25, 2022
The Romare Bearden Papers
October 12, 2022
The WPI is pleased to announce the inaugural release of materials in the Romare Bearden Papers (1900–2008, bulk 1940–1988). 
The Eva Gonzalès Digital Catalogue Raisonné Project
June 27, 2022
WPI is pleased to announce the commencement of the Eva Gonzalès Digital Catalogue Raisonné.
This ambitious undertaking will mark the first digital catalogue raisonné for a woman artist on the Institute's growing roster.