Upcoming
Pop Places 1958–1966
Weekly Webinar Series
September 20 to October 18, 2022
Join us this fall for Pop Places 1958–1966, a series of mid-day talks, dedicated to a different key New York exhibition space of the era. The series' overarching thesis is that what became known as Pop emerged from an array of sites, where artists,…
Past
Pop Art Goes Viral: From New York City to Europe, Rosenquist's F-111 Takes Flight
September 27, 2022
In the early 1960s, James Rosenquist was in all the right places. His first Pop art canvases were made at a studio on Coenties Slip, his first show at Green Gallery sold out in 1962, and Rosenquist was included…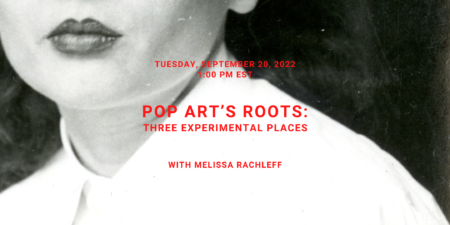 Pop Art's Roots: Three Experimental Places
September 20, 2022
Melissa Rachleff's presentation explores Pop Art's origins in assemblage and figuration. In "Pop Art's Roots: Three Experimental Places," Rachleff discusses these short-lived galleries where the "Pop" sensibility emerged: Hansa Gallery (1952–1959), Reuben Gallery (1959–1961) and Green Gallery (1960–1965).
Connoisseurship and Methodology webinar at the Appraisers Association of America
May 25, 2022
Elizabeth Gorayeb, Executive Director of the Wildenstein Plattner Institute, joined The Appraisers Association of America for a virtual webinar to speak on the WPI's mission, history and the fundamental components of our research and publication initiatives, including digital cataloguing and archive platform. 
News
Opportunity: Part-time Catalogue Raisonné Research Assistant, temporary position
The Wildenstein Plattner Institute (WPI) is seeking a Catalogue Raisonné Research Assistant to support the Gauguin, Renoir, and Monet catalogue raisonné projects. The Research Assistant will primarily aid in consulting archival and library resources in New York City-area research libraries and provide scanned research materials for the Catalogue…
The Eva Gonzalès Digital Catalogue Raisonné Project
June 27, 2022
WPI is pleased to announce the commencement of the Eva Gonzalès Digital Catalogue Raisonné.
This ambitious undertaking will mark the first digital catalogue raisonné for a woman artist on the Institute's growing roster.
Bearden Call for Information
June 11, 2021
The Romare Bearden Digital Catalogue Raisonne project aims to create a comprehensive record of all artworks created by Romare Bearden (1911-1988). In partnership with the Romare Bearden Foundation, the WPI is in the process of digitizing the artist's archives and conducting research on Bearden's artistic output. To aid in…