I began working on the Henry Certigny Papers in April 2019 to prepare the collection for digitization. These archives, which document the life and work of the Belgian poet, writer, and art historian best known for his research on French artist Henri "Le Douanier" Rousseau, consisted of eighty archival boxes of stacked papers with almost no apparent classification.

As I opened every box to examine the broad assortment of materials, the work and persona of Certigny, whose life changed after he published Rousseau's biography in 1961, began to take shape. Spending time with Certigny's files allowed me to better understand his process as a researcher and thus revealed his organizational system. Once the 77,994 media files that composed the collection were scanned, I structured its contents following Certigny's original order, whenever possible, and started to process his papers with the aim of making them accessible to other researchers through the WPI Digital Archives.

The material on Rousseau in this collection is phenomenal, as it is probably the most extensive ensemble of information available on the artist today. Rousseau was a major artist of the turn of the 19th century, as well as a singular figure. The painter was not affiliated with a dealer or gallery, which probably explains the lack of information on a number of his paintings. The latter issue speaks to the importance of Certigny's research as much as it reveals the challenges of such an ambitious project.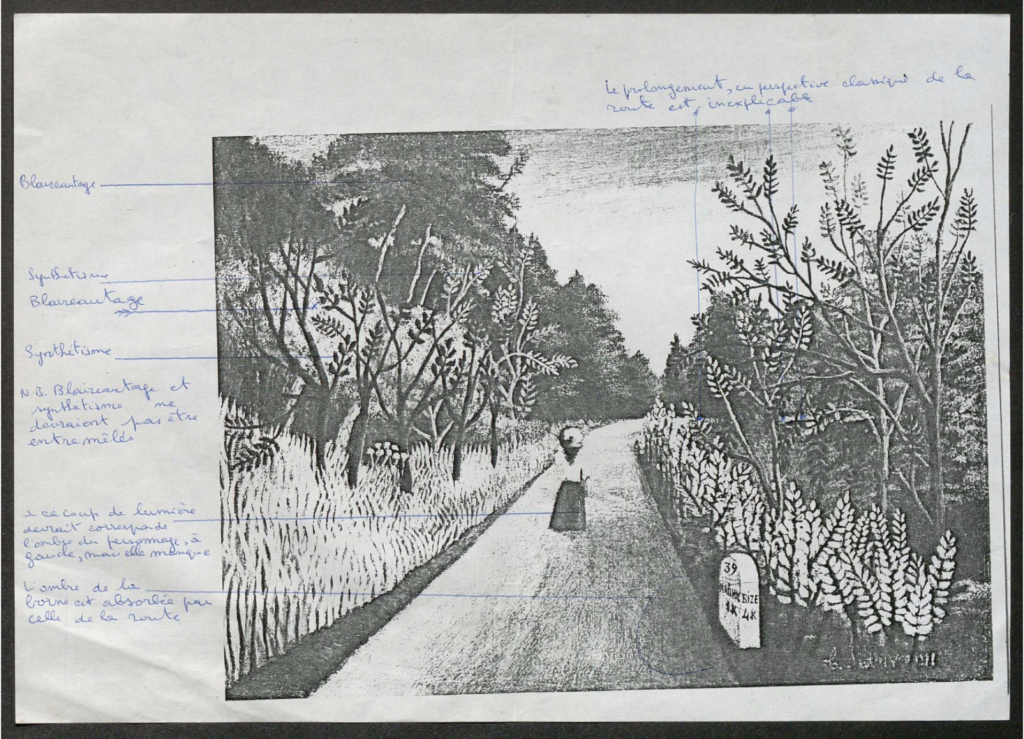 For that matter, the Artwork Files offers an overview of the making of Le Douanier Rousseau et son Temps: Biographie et Catalogue Raisonné in 1984. This file contains research completed and compiled on paintings included in the catalogue raisonné. This section of the collection is rich: it includes an abundance of correspondence with owners and graphological experts, scientific analysis of paintings, and copies of photographs and sales catalogues. One of the most interesting files is the Singe Peintre [The Painting Monkey] as it documents Certigny's discovery of the painting Rousseau had copied at the Louvre for this work.
The Artwork Files: not included is equally important, as it contains an inventory of paintings that Certigny excluded from his catalogue raisonné. This file also documents Certigny's rivalry with another renown expert of Rousseau, Dora Vallier. My experience reviewing this portion of the archives made it clear that they disagreed on the attribution of numerous paintings.
Certigny was a very methodical researcher, and this can be inferred by looking at the 37 reports he produced while working at the French National Centre for Scientific Research (CNRS) between 1964 to 1973. These reports, which are fully available online, are a testimony to Certigny's diligence and of great value to anyone interested in Rousseau's work. Certigny also compiled an impressive collection of press clippings. During Rousseau's life, there were hundreds of press titles offering comprehensive reviews of the Salon d'Automne and the Salon des Indépendants, where Rousseau often presented his work. The collection shows that Certigny researched more than 300 periodicals. He mainly kept notes, although he sometimes kept original copies, which form the core of the impressive and chronological file of periodicals referencing Rousseau. I consider this file to be one of the most precious findings of The Henry Certigny Papers, as they document the evolution of the critique of Rousseau's work and how he became a legendary painter, or at least how the artistic press (and then institutions and collectors) came to see him as more than "a mad man painting jungles."
One of the major events in Rousseau's life – that I was not aware of before working on this collection – was his 1909 trial. Rousseau had by all accounts a difficult life; he lost a wife, many children, and lived in poor conditions. In addition to these hardships, I came across a group of articles from 1909 which show that Rousseau was convicted of complicity in a bank fraud. Certigny's transcripts of the articles comment on the trial and present some insights from his lawyer.
The archives is full of other hidden gems. Among them are Rousseau's music scroll, an original signed visiting card of the painter, or notebooks belonging to the Octroi de Paris's employees, where Rousseau used to work.
However, this collection contains much more than Certigny's research on Rousseau. Even though Rousseau was the main subject of Certigny's writings, these archives demonstrate that he had many other interests. His love and knowledge of Rousseau pushed him to the contemporary Naïve Art scene and followers of Henri "le Douanier" Rousseau, which are well-represented in his papers among other research topics.
The final and somewhat daunting group of materials that I processed were Certigny's correspondence, which contains personal as well as professional letters. Certigny preserved an impressive number of letters, including carbon-copies of his own outgoing letters. From these letters, researchers can discover who were his close friends and colleagues, such as Alain Mercier from the CNRS, art critic and collector Anatole Jakovsky, and curator Jean-Pierre Bouvet. Certigny's correspondence documents his activities and offers a unique perspective on his life and work.
It is my hope that art professionals, as well as admirers of Rousseau's work and outsider art, find in the Henry Certigny Papers new information that will spark interest and new scholarship. This archival collection is also a testament to Certigny's legacy as an art historian and the work of an expert from the 20th century.

Jules Boquet

Jules Boquet is an independent art historian and gallerist working in Paris. From 2019 until spring 2021, he worked as a consultant for the archival team at the Fond WPI.