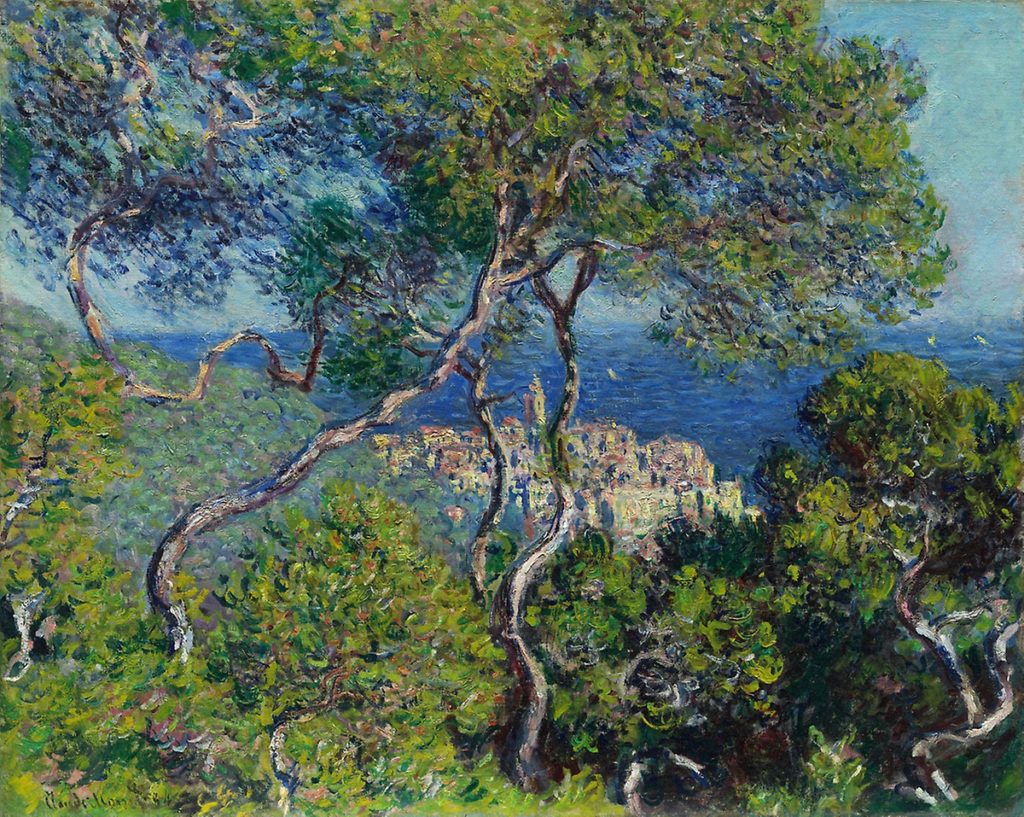 In December 1883, Claude Monet left Giverny and traveled to the French and Italian Rivieras for one week with his friend and fellow Impressionist, Pierre-Auguste Renoir. Following Monet's military service in Algeria twenty years earlier, he had become an avid traveler. Monet realized a number of works during visits to England in 1870 and the Netherlands in 1871 and 1874, but this would be his first sojourn Southern Europe.

Monet returned to the Mediterranean coast in January 1884, this time alone. He stayed for an extended period of time in the small Italian town of Bordighera, close to the French border, which had particularly caught his attention.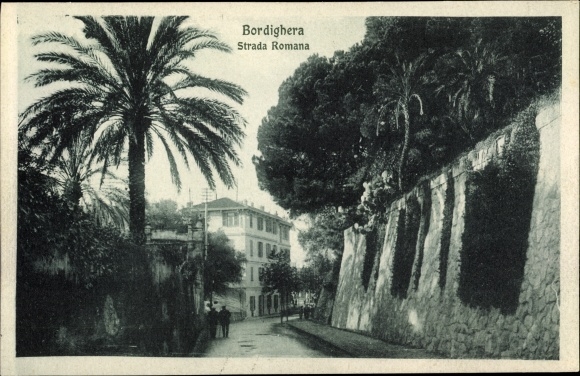 Monet's motivations for his second sojourn were manifold, but his desire to find fresh motifs, exotic landscapes, and bring back new paintings to his gallerist Pierre Durand-Ruel was decisive. In an early letter to Durand-Ruel, Monet wrote that his journey would last around three weeks. However, the artist eventually spent four months on the Riviera–three months in Italy and ten days in the seaside town of Menton, in the South of France.

Pines and olive trees, and similar recurring compositional motifs can be found throughout Monet's first Mediterranean paintings, while human figures and ships are surprisingly absent. The compositions he completed while in Italy reduce the sea to a small section of the canvas or omit it entirely, even though Monetoften mentioned the beauty and vivid colors of the Mediterranean Sea. 
Though Monet was enthusiastic about the lush vegetation and intensity of colors, he nevertheless grappled to render the distinctive atmosphere of the Riviera. The unstable winter weather was cause for concern for the plein air artist who sometimes had to stay indoors for several days in a row. Furthermore, Monet could not find some of the compositions he had imagined, like orange trees standing out against the deep blue sea, and he struggled with existing landscapes, such as amorphous forests of palm trees that lacked clear beginning or end.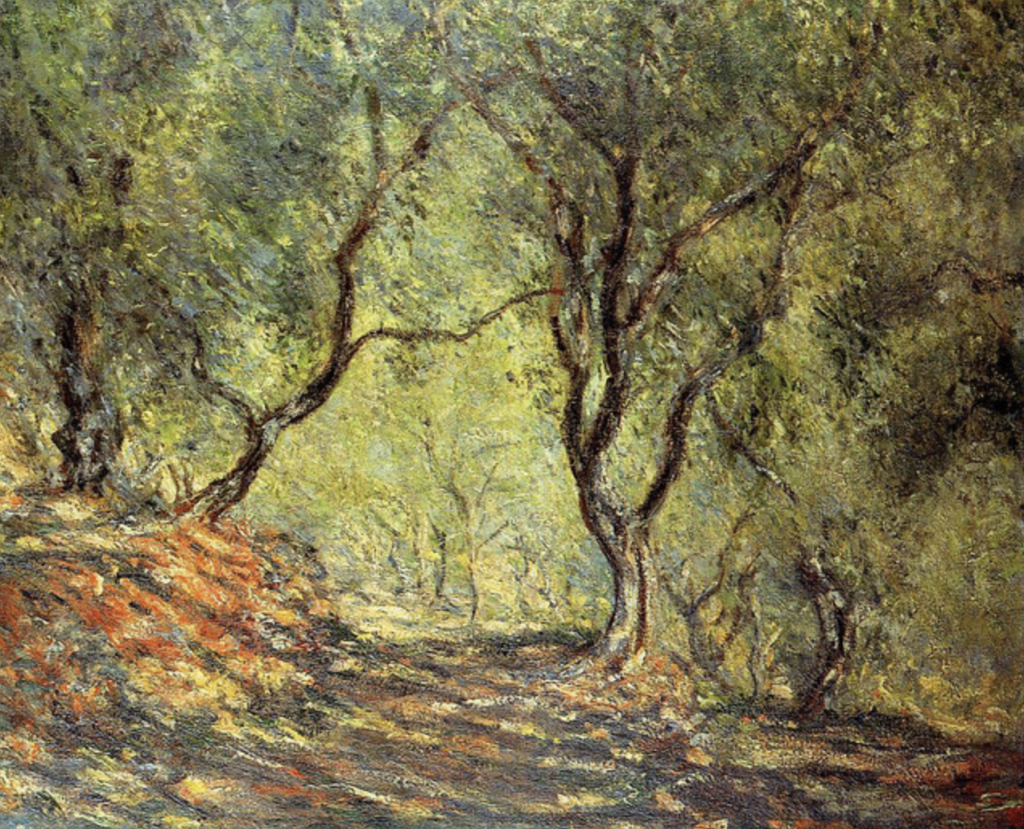 These paintings, ultimately, show lush pink and blue-colored skies, a palette tracing the evolution of a scene over the course of a day rather than detailed representations of the Riviera. For instance, in the luxurious gardens of the wealthy industrialist Francesco Moreno, Monet painted the same composition twice, one in the morning and one in the afternoon. When seen together, one can appreciate Monet's commanding rendering of the changing light. The artist turned the soft and warm morning shades of pink into vivid hues of green for the trees or yellow for the houses, which stand out against the clear blue afternoon sky.
In his letters, Monet spoke of his ambivalence about the Mediterranean, at times expressing his fascination for its exotic features, at others fearing that his paintings were not good enough or that no one would understand or appreciate them. As he wrote to his wife-to-be Alice Hoschedé on March 10th 1884:

"Dear Madam,
Since this morning I have not stopped working until 6 p.m., I had an hour break for lunch and that is all but I've done some good work and I am very proud of myself today. I've done quite a few bad paintings in the beginning but now I got it, this fairytale land, and it's precisely this magical aspect that I want to show so much. Of course many people will say it is incoherent, it is madness, but never mind, they are saying this when I paint in our climate. By coming here I had to bring back its startling aspect, everything I paint is 'flamme-de-punch' or 'gorge-de-pigeon', even if I do this timidly. I am starting to make it through, besides it's more beautiful everyday, with the almond and peach trees entangled with the palm and lemon trees which always have fruit on their branches in a delightful harmony, and seeing all of this changing every day make you want to follow the evolution of all this, if not tempted to go elsewhere. Indeed, while I am enjoying all of this, I cannot wait to pack my suitcase, it is taking too long and this desire to go home gives me a renewed ardor which along with a better way of looking at things will led me to create wonderful artworks, like [Durand-Ruel] told me to. He wrote me to ask about my work, telling me not to hesitate to undertake larger paintings and to extend my stay. That is good of him, he does not realize I am exhausted and weary of working".
Although Monet returned to Giverny in April 1884 with 45 paintings (mostly landscapes), the artist was still unsure about how his work on the Mediterranean coast would be received by the public. Monet came back with crates full of new, colorful, and magnetic paintings. As we will see in Part 2 however, the aftermath of his sojourn was to be as eventful as the journey itself.
Part 2 forthcoming

Pandora Langlais